Air Conditioning in Educational Establishments
Hassle free. No hidden costs.
Air Conditioning for Nurseries, Schools, Colleges and Universities
MAC has provided air conditioning installation, maintenance and repair services to a range of educational establishments such as schools, colleges and universities throughout the UK for many years.
Our air conditioning units allow a comfortable temperature to be maintained in classrooms, communal areas and corridors, to keeping pupils and students focused and concentrating all year round.  Monitoring and controlling the temperature means these specific areas can be kept within the optimum comfort temperature (18 – 24 ºC) recommended/required by the World Health Organisation.
Selecting the Correct Air Conditioning Unit
When selecting your air conditioner, it is important to plan the ideal placement of the unit, taking into consideration the shape of the classroom and the arrangement of desks. A well-placed air conditioner should provide effective cooling throughout the room, fostering student concentration while minimising potential for distraction by operational noise.
If the unit is not planned for installation in the classroom, there are many other places suitable for air conditioners. These include:
Lunch halls
Lecture theatres
Corridors
Cloakrooms
Toilets
We are happy to provide our expert advice to help guide you through this process.
The 3 types of air conditioning units suitable for educational environments are:
Wall Mounted Air Conditioners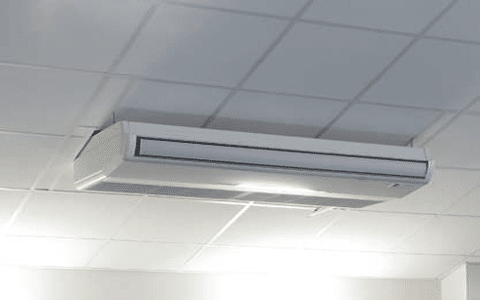 Under Ceiling Air Conditioners
Ceiling Cassette Air Conditioners